Genre: Animation | Comedy
Creators: Shinbo Nomura
Network: Hungama TV (India)
Orginal run: TV Series (1988–1989)
Running time: 21min
Language: Hindi
Quality: 480p
Encoder: ATH
Synopsis: Hagemaru Hageda is a young kid, studying in fourth standard living with his parents in Japan. Only child of his parents, he and his parents are a big misers. They do anything for saving money and this is the basic plot of the show. Hagemaru also has a pet dog named Pesu, who often comments about Hagemaru's family being too miser and not giving him anything to eat.
-: Episode List :-
Episode 1 – The Birth of Hagemaru/Best 10 Short Stories/Always Misbehaving at School!
Episode 2 – Mom is Stingy at Behaviour/Best 10 Short Stories/Happy Birthday Sakura!
Episode 3 – The New School Team/Best 10 Short Stories/Stingy Attitude Games!
Episode 4 – Part-time Job/Best 10 Short Stories/Stingy Attitude Games of Mom!
Episode 5 – To See Sakura Flowers in Spring/Best 10 Short Stories/The BAseball Match of Blast!
Episode 6 – Mother & Son's Misadventure in Shopping Mall/Best 10 Short Stories/The Class of Year 4 in Umemomo Primary School!
Episode 7 – Always Contact the Loved Ones/Best 10 Short Stories/Father & Son's Fishing Misadventure!
Episode 8 – Amusement Park/Best 10 Short Stories/Life of Train!
Episode 9 – The Tengi no Sekku Day/Best 10 Short Stories/Showers, Hairs & Eyebrows!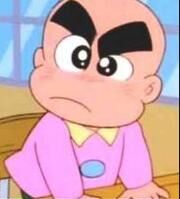 !New Episodes Every Week!